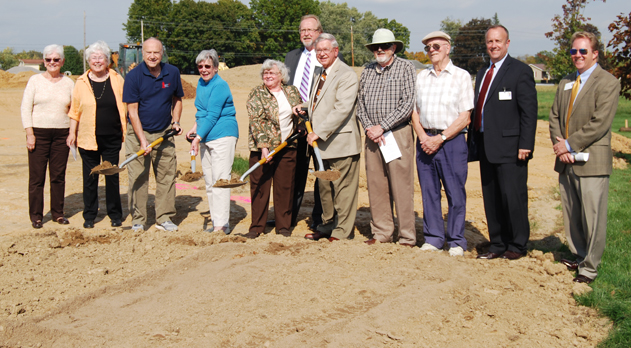 L-r, Joanne Frantz and Mary Usher, welcoming committee; Marlin Gatty, Janet Temple, the Rev. Don Haulman and Zelda Stewart, first signed residents; the Rev. Fred Bigelow and Ray Confer, resident council. In middle, rear, Mark Pile, Diakon president/CEO, and at right, Robert Musser and Scott Habecker.
Four of the first new residents in an expansion of independent living homes at Buffalo Valley Lutheran Village turned over ground today to mark the symbolic start of construction.
Accompanied by Mary Usher and Joanne Frantz, co-chairs of the village welcoming committee, and the Rev. Fred Bigelow and Ray Confer, president and vice-president of Buffalo Valley's resident council, Janet Temple, Marlin Gatty, the Rev. Don Haulman and Zelda Stewart—the first new residents—broke ground for the project.
The groundbreaking was symbolic because Wagman Construction is already at work clearing the site and digging foundations for the first of 13 homes to be built between now and the fall of 2017.
Both Robert Musser, village executive director, and Scott Habecker, Diakon chief financial and chief operating officer, thanked village residents and staff and the Lewisburg community for their support of Buffalo Valley as the village continues to grow.
"We have spent the last several years working on renovations and similar efforts at our nine senior living communities in Pennsylvania and Maryland," Habecker said, "so it is gratifying to begin a project that represents expansion of our services."
Musser noted that Diakon's commitment to the Lewisburg region is evident in the village's new health care center, built several years ago.
The site was blessed by the Rev. Barbara J. Collins, Bishop-Elect of the Upper Susquehanna Synod of the Evangelical Lutheran Church in America. Others taking part in the groundbreaking ceremony were Mark T. Pile, Diakon president/CEO, the Rev. Marian Anderson, village chaplain, and the Rev. Mark Wimmer, vice president of church relations & ministry partnerships for Diakon.
"We will be building six homes now, with a tentative completion date of March of next year," says Steve Daniels, executive director for facility planning and development for Diakon. "The next group of seven homes will follow that."
The groundbreaking took place at the end of the street that runs beside The Village Common off Reitz Boulevard, the retirement campus' community center.
Two models of homes will be built. The new 1,469-square-foot Manchester features a master bedroom suite with walk-in closet, a second full-sized bedroom, two full baths with walk-in showers and an open living area/kitchen with island. In addition, the home includes a one-car garage.
"We also are building more of our most-popular model, the Windsor, which includes two bedrooms, two full baths, and an eat-in kitchen," says Gretchen Nash, manager of marketing and sales for the village. The home includes 1,365 square feet of living space, plus a one-car garage.
Both homes also include furnished appliances, a patio or optional sunroom, 24-hour call systems and priority access to care within the village's personal care and rehab/nursing care centers.
People interested in more information on the new homes should contact Nash at (570) 523-4285.
William Swanger, M.A., APR
Senior Vice President, Corporate Communications
Diakon Lutheran Social Ministries
(717) 795-0308
E-mail:
swangerb@diakon.org