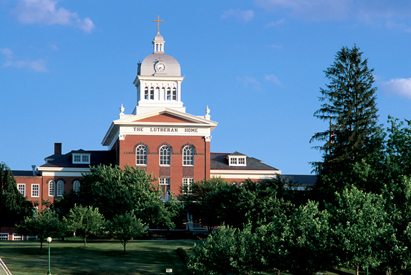 The iconic Old Main building on The Lutheran Home at Topton campus now has its place in history assured.
Recently, the building—which dates to the late 1800s—was listed in the National Register of Historic Places.
Authorized by the National Historic Preservation Act of 1966 and serving as the official list of the nation's historic places worthy of preservation, the National Park Service's National Register of Historic Places is part of a national program to coordinate and support public and private efforts to identify, evaluate, and protect America's historic and archeological resources, according to the park service.
"We are delighted that such a historic building now has its place on the national list," says Mark T. Pile, president/CEO of Diakon Lutheran Social Ministries, which owns and operates the site as a senior living community. The Lutheran Home at Topton originated, however, as an orphanage.
Construction of the 32,122-square-foot Old Main building, which overlooks the community of Topton in northeastern Berks County, began in 1897 with dedication two years later. To accommodate the increasing number of children served by the home, two two-story wings containing school rooms, bedrooms and a chapel were added in 1911.
According to published histories, "on the 29th of June, 1897, in the morning at 6 o'clock, the Superintendent [of the home, Uriah P. Heilman, then 47], with pick and shovel on his back, went out to the building site of the projected main building and placed himself on the spot where his office was to be." Asking God's blessing, "he dug out, in the shape of a cross, about the size of a man, several wheel-barrowsful of ground. Then looking towards the north and kneeling in the cross-shaped opening, he offered a brief prayer."
William Swanger, M.A., APR
Senior Vice President, Corporate Communications
Diakon Lutheran Social Ministries
(717) 795-0308
E-mail:
swangerb@diakon.org